London & St. Thomas Association of Realtors
Market Stats as of April 30, 2015
market springs to life
May 4, 2015
The Spring market is off to a good start with 964 homes exchanging hands in April 2015, up 15.3% over the previous April." This makes last month the second best April in the past decade – second only to April 2010," says Carl Vandergoot, President of the London and St. Thomas Association of REALTORS®. 776 detached homes sold last month, up 16.5%, along with 188 condos, up 10.6%. Average price, Year-to-Date, was also up 2.2% overall. The average price for a detached house Year-to-Date stood at $278,094, while the average price of a condo for the same period stood at $184,982.
Listings were also up 5.4%, while inventory – active listings end of period – were down a marginal 0.2%. "We still have a good supply of listings," says Vandergoot, "and our market continues to be a balanced one, good for both buyers and sellers. However, supply does seem to be tightening up a little, meaning that, if anybody's thinking of listing their home, now might be an excellent time to do it."
Sales in London's Sister City of St. Thomas kept pace with those of last April: in both April 2014 and April 2015, 77 homes exchanged hands, making those two months the best April for St. Thomas since 2010. The average price of a home in St. Thomas Year-to-Date stands at $216,109, up 8.1% from December 31, 2014.
The best-selling house style in LSTAR's jurisdiction for April 2015 was the two-storey, then the bungalow, followed by ranches, then townhouse condominiums, then high rise apartment condos.
| House Style | Units Sold | Average Price |
| --- | --- | --- |
| 2 storey | 241 | $374,135 |
| Bungalow | 179 | $213,251 |
| Ranch | 90 | $293,070 |
| Townhouse | 85 | $171,369 |
| High rise apt. condo | 46 | $142,275 |
The following chart, based on data taken from CREA's National MLS® Report for March 2015 (the latest information available), demonstrates how homes in LSTAR's jurisdiction continue to maintain their affordability compared to other major Ontario and Canadian centers.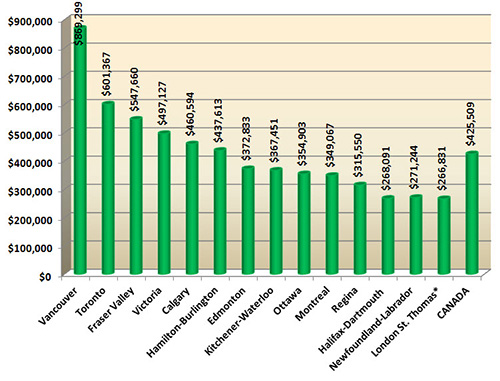 "London's affordability, along with its fine educational institutions and outstanding hospitals, makes it a great place for families and retirees alike," says Vandergoot. "We've got a lot to offer. Moreover, according to recent research conducted by the Altus Group, one job is created for every three real estate transactions and approximately $52,000 in ancillary spending is generated every time a house changes hands in Ontario. That's why strong home sales like we've seen last month are such good news for our area's economy."
* Average Price Overall for April 2015
Comments in the above report are from LSTAR.